Product Description
Details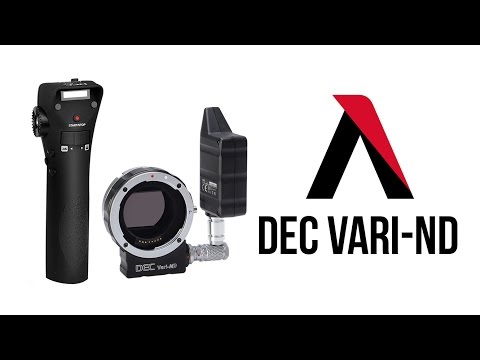 Walk-Through of the DEC Vari-ND Genius Adapter - YouTube
Video will open in a new window
[isdntekvideo]
This listing is for the Micro Four-thrids MFT camera model (use Canon EF-mount lenses). Please double check to make sure you are ordering the correct model.
Main features:
Built in Electronic Vari-ND Filter, 8 Stops Light Adjusting from ND8 to ND2048
Via the Supplied Hand Grip, it can wirelessly adjust Focus and Aperture, Start/Stop Recording
DEC VariND allows you to control both ND and aperture from the adapter itself, without needing the hand grip
No Color Shift, No X Pattern. Smart Plug-In Design, Fit For Flexible Usage. Constructed out of Heavy-Duty Aluminum and Brass. Comes With Safe Case
One charge of the hand grip will work for over a week while the adapter will work 4 hours continuously OR can be simultaneously charged for unlimited hours of use
The Aputure DEC Vari-ND is a wireless remote adapter that allows you to attach Canon EF-mount lenses to MFT mount or E-mount cameras. In addition to retaining all the features of previous DEC adapters, it is also equipped with an electronic variable ND filter, ranging from ND8 to ND2048. Multiple steps of light adjustment allow you to shoot with a wide-open aperture in bright light. The DEC Vari-ND expands the capabilities of Canon EF-mount lenses when you shoot with Micro Four Thirds or E-Mount professional cameras.
The DEC Vari-ND has a built-in liquid crystal variable ND filter, which can achieve ND8-ND2048. That's a range of 9 stops of adjustable neutral density. When shooting, it not only can reduce the amount of light for longer exposure, but it allows you to shoot motion blur under bright light with the iris wide open. It can also help to achieve cinematographic depth of field, bringing more creativity and flexibility to your films.
The DEC Vari-ND has an optical design. It uses industry-standard lens and coating technologies. The high transparency of the crystal lens assembly can reach up to 98%. The adapter produces neutral colors with no shifting that traditional ND filters cause. There is also no polarization, which can sometimes create the "X" pattern on your footage.
The DEC Vari-ND is compatible with all native Canon EF/EF-S lenses and MFT or E-mount cameras. With the adapter and its control system, you can wirelessly control focus, aperture, and focus with A-B points. It's a smart adapter solution for your Canon glass.
The DEC Vari-ND has a new control box design, with an added wheel on the control box to manually control the intensity of ND and aperture. Now, not only can you control these values wirelessly via the supplied hand grip, but you can control them from the adapter itself.
With a simple click, you can choose between the Vari-ND filter or a transparent lens. When you're in dark environments where you don't need ND, your DEC Vari-ND can act simply as a follow focus adapter.
The DEC Vari-ND is mainly made with copper and aircraft-grade aluminum. The inside is crafted with velvet for optimum stability. The transparent lens cartridge comes with its own ABS case, and the entire package comes with an additional impact-proof hardshell case.

Additional Information
Additional Information
| | |
| --- | --- |
| SKU | APU0071 |
| Manufacturer | Aputure |
Product Tags
Delivery
Delivery Methods
UKHP offer a range of affordable delivery options to suit your requirements.
We dispatch order on the same day if payment received before 1pm. We use Royal Mail, InterLink Express and UPS for most of our consignments.
Standard UK mainland service
Standard UK delivery service costs £2.5 per order and FREE UK delivery for order over £50
Next Day Delivery for only £5.25 per order (order by 1pm)

Shipping service to EU
We deliver to most EU countries and use Royal Mail Airmail or International Tracked service. (usually 4-7 working days but to Spain/Italy it may take up to 14 working days)
Standard Royal Mail Air Mail services costs £3.0 per order to EU countries, and premium tracked service costs £8 per order.
How long will my parcel take to be delivered?
Assuming that all goods are in stock on your order and you have completed check out process then orders to UK addresses will be delivered within 2-4 working days and to EU addresses will be delivered within 4-10 working days. Posts to Italy and Spain might be a bit slow sometimes. This is the usual delivery timescale provided that no issues are encountered when attempting to take payment from your card.
Why us?
Great prices, great service, all enquires will be answered promptly and professionally. We are here to provide you one of the best online shopping experience.
All email queries will be dealt with within 24 hours during weekdays. Refund and replacement will normally be processed withing 2 working days.
Shop with us with 100% confidence!