Product Description
Details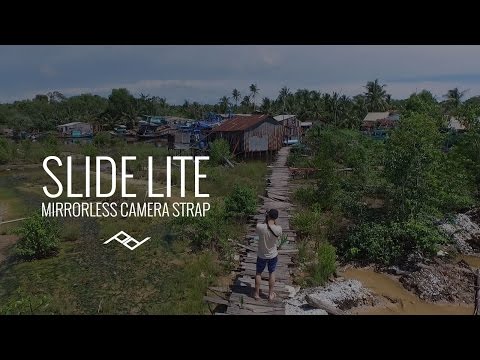 SlideLite: Camera Strap for Mirrorless Cameras - YouTube
Video will open in a new window
[isdntekvideo]
Changing lenses is one of the most common workflows in photography. It's also one of the most frustrating. Enter CaptureLENS®. Based on our flagship Capture Camera Clip, CaptureLENS lets you change lenses rapidly, with just one hand, and holds your unused lens rigidly and securely. Wear CaptureLENS on any backpack strap, belt or bag, keeping your spare lens quickly accessible and freeing up the inside of your bag for other gear. Includes 1 clip and 1 Lens Kit adapter. Choose from Canon EF, Nikon F or Sony E/FE mounts.
CARRY & CHANGE LENSES WITH EASE
IDEAL COMBO OF SECURITY AND ACCESS
Forget cumbersome pouches. CaptureLENS keeps your spare lenses rigidly secure on any belt, backpack strap or bag so you can carry them securely and access them instantly.
CANON, NIKON OR SONY
When you order CaptureLENS, choose 1 of 3 lens types: Canon EF, Nikon F or Sony E/FE. We do not currently offer support for Micro 4/3, Fuji X or other mounts, but we may do so in the future.
WEAR IT HOW YOU LIKE IT
ANY STRAP, ANY BELT, ANY BAG
Attaches to any strap up to 7cm (3") wide, meaning you can carry your lens securely on your belt, backpack strap or bag strap.
USE WITH ANY PEAK DESIGN STRAP
The Lens Kit attachment that comes with CaptureLENS has multiple Anchor mounting points, so you can use any Peak Design strap to comfortably sling your spare lens around your body.
IDEAL MATCH FOR THE EVERYDAY MESSENGER
Looking to carry a lens the outside of your camera bag? look no further than The Everyday Messenger (sold separately) which has the perfect built-in attachment point for CaptureLENS.
FASTEST WAY TO CHANGE LENSES, EVER
4-WAY LOCKING SWIVEL
The Lens Kit adapter swivels freely for quick lens changing, but locks in 4 directions to keep your unused lens secure.
QUICK-RELEASE ACTION
Just like the bayonet mount on your camera, CaptureLENS lets you quickly remove lenses by pressing the red quick-release button and twisting. Likewise, your lens will automatically lock into CaptureLENS simply by twisting until you hear the lock click.
DESIGNED FOR HEAVY PRO GLASS
UBER STRONG AND SECURE
Securely hold lenses of any size/weight, from mirrorless lenses up to heavy pro glass.
HOLD UP TO 2 LENSES AT A TIME
The double bayonet mount lets you hold up to 2 lenses at a time, or keep one bayonet mount free so you can conduct a fast lens change.
WEATHERPROOF CONSTRUCTION
Made of glass-reinforced nylon with machined aluminum bayonet mounts. Includes 2 bayonet caps to keep dust and water out of the unit.
WHAT IS IN THE BOX
Capture Camera Clip
Lens Kit Adapter (with 2 Bayonet Caps, not pictured)
Dyneema anchors x2
Microfiber Pouch
SPECS
NAKED WEIGHT
7 oz (198g)
NAKED DIMENSIONS
10 cm (4 in.) x 9 cm (3.5 in.) x 5 cm (2 in.)
WARRANTY
Lifetime
Additional Information
Additional Information
| | |
| --- | --- |
| SKU | PDE0038 |
| Manufacturer | Peak Design |
Product Tags
Delivery
Delivery Methods
UKHP offer a range of affordable delivery options to suit your requirements.
We dispatch order on the same day if payment received before 1pm. We use Royal Mail, InterLink Express and UPS for most of our consignments.
Standard UK mainland service
Standard UK delivery service costs £2.5 per order and FREE UK delivery for order over £50
Next Day Delivery for only £5.25 per order (order by 1pm)

Shipping service to EU
We deliver to most EU countries and use Royal Mail Airmail or International Tracked service. (usually 4-7 working days but to Spain/Italy it may take up to 14 working days)
Standard Royal Mail Air Mail services costs £3.0 per order to EU countries, and premium tracked service costs £8 per order.
How long will my parcel take to be delivered?
Assuming that all goods are in stock on your order and you have completed check out process then orders to UK addresses will be delivered within 2-4 working days and to EU addresses will be delivered within 4-10 working days. Posts to Italy and Spain might be a bit slow sometimes. This is the usual delivery timescale provided that no issues are encountered when attempting to take payment from your card.
Why us?
Great prices, great service, all enquires will be answered promptly and professionally. We are here to provide you one of the best online shopping experience.
All email queries will be dealt with within 24 hours during weekdays. Refund and replacement will normally be processed withing 2 working days.
Shop with us with 100% confidence!